Primo, sweet memories of sparkling wines
CASALFARNETO SPARKLING WINE FROM THE "TRADITIONAL METHOD" TO THE "CHARMAT METHOD"
Casalfarneto sparkling wines present their very own freshness and quality in "Primo Selection" with up to five different ways to enjoy their sparkle, from Tradional Method Brut to Verdicchio, including Passerina, the organic sparkling wines and the Moscato. These last ones are produced in accordance with the Charmat Method; an intense productuvity rooting in the figure of Primo Togni, and in his everlasting wish to improve.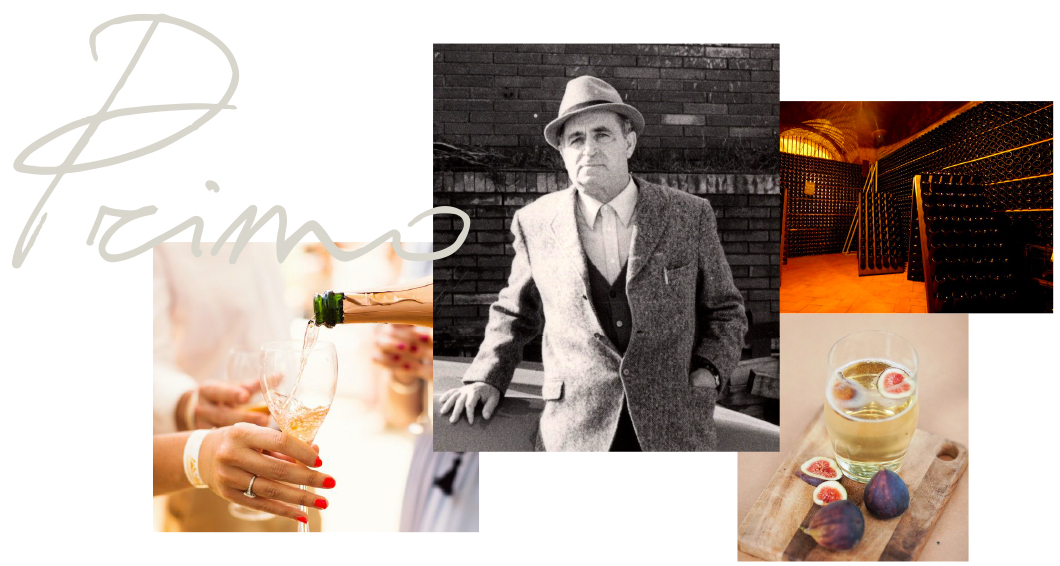 "This goes to my grandfather Primo, the one who taught me all there is to know on how to produce a bottle of good sparkling wines "
PAOLO
With a mix of delicate flavours and ancient traditions, all the sparkling wines forming "Primo Selection", derive their characters from the guidelines left by Primo, a constant source of inpsiration for changing and growing the Casalfarneto company itself, since the very first years of activity. Primo disclosed the value of time, a tenacious and irreplacable feeling for both the cellar and the production process of wines, each demanding  a peculiar care before being able to release their distinct sparkle.  Primo wines only reveal their ripeness sip after sip, because the right moment has to be patiently awaited in order to be fully enjoyed.
Tradional method
TRADITIONAL METHOD QUALITY BRUT SPARKLING WINE
Elegant, bold and absolutley versatile: the Casalfarneto Brut produced by the "Traditional Method",  is the natural choice for those who enjoy combining a good meal to a persistent sparkle gifted with a delicate tone. After a 24 months prolonged fermentation this wine develops hints of bread crust and yeast, making it the perfcet match to fish-based dishes or simply to a joyful and memorable toast.


Charmat Method
Ready to savour, the wines produced by the Charmat Method undergo a sweet processing  giving them a gentle taste enriched by a fruity and vibrant  aroma.
Ideal for aperitivo, each spumante is the essence of a thousand words and  pleasant moments spent in good company.
VERDICCHIO BRUT SPARKLING WINE
Originating from a noble base, this sparkling wine is obtained by Verdicchio grapes, whom shades of tradition it holds.
Light and armonious its flavour resonates like the soulful melody  of CasalFarneto.
PASSERINA BRUT SPARKLING WINE
Raising from the omonimous vineyard  Passerina, this sparkling wine offers a great pleasantness
thanks to its fragrant and fresh acidity outlining a delicate and never invasive profile.
ORGANIC BRUT SPARKLING WINE
Filled with flavours and reminescences of Marche hills, no other wine could better
offer the truest and authentic taste of CasalFarneto. This wine is indeed produced following Certificate Organic Farming
procedures and techniques, serving as a guarantee for its absolute and genuine personality